Am.Can.Int.Ch Amberac Aileron Face Th' Mewzik

Sire:BISS Am. Ch. Amberac Yer Chips R Taykin SDHF OS
Dam: Amberac Snowshoe Speedwagon OD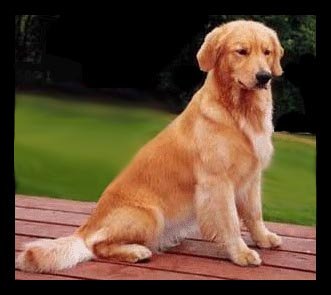 2009 Mewzik is ten years old this October and still the naughtiest golden I have ever owned. She was from Ellen Manke (Amberac) FACE litter.
She was quite the little show dog and got TWO five point majors first two times in the ring at 7 months old( thank you Virginia Lynn and Pat Trotter).
Then she decided entertaining judges was more important than that last 5 points so she, did a few more antics for the judges (like jumping straight into the air about 4 feet, coming down , landing into a perfect stack and looking at the judge as if to say TA DA!!! How ya like them apples???!!!!
But finally she settled down and finished 3 titles(American, Canadian and Int Champion) in less than 6 weeks.
That's ok tho…we like bad girls here…and what could be more entertaining than having a old golden wake you up in the morning singing at the top of her voice because she wants her breakfast and you overslept?
Today at ten years of age she spends her days guarding the couch and sleeping under the dining room table just in case some food accidently drops.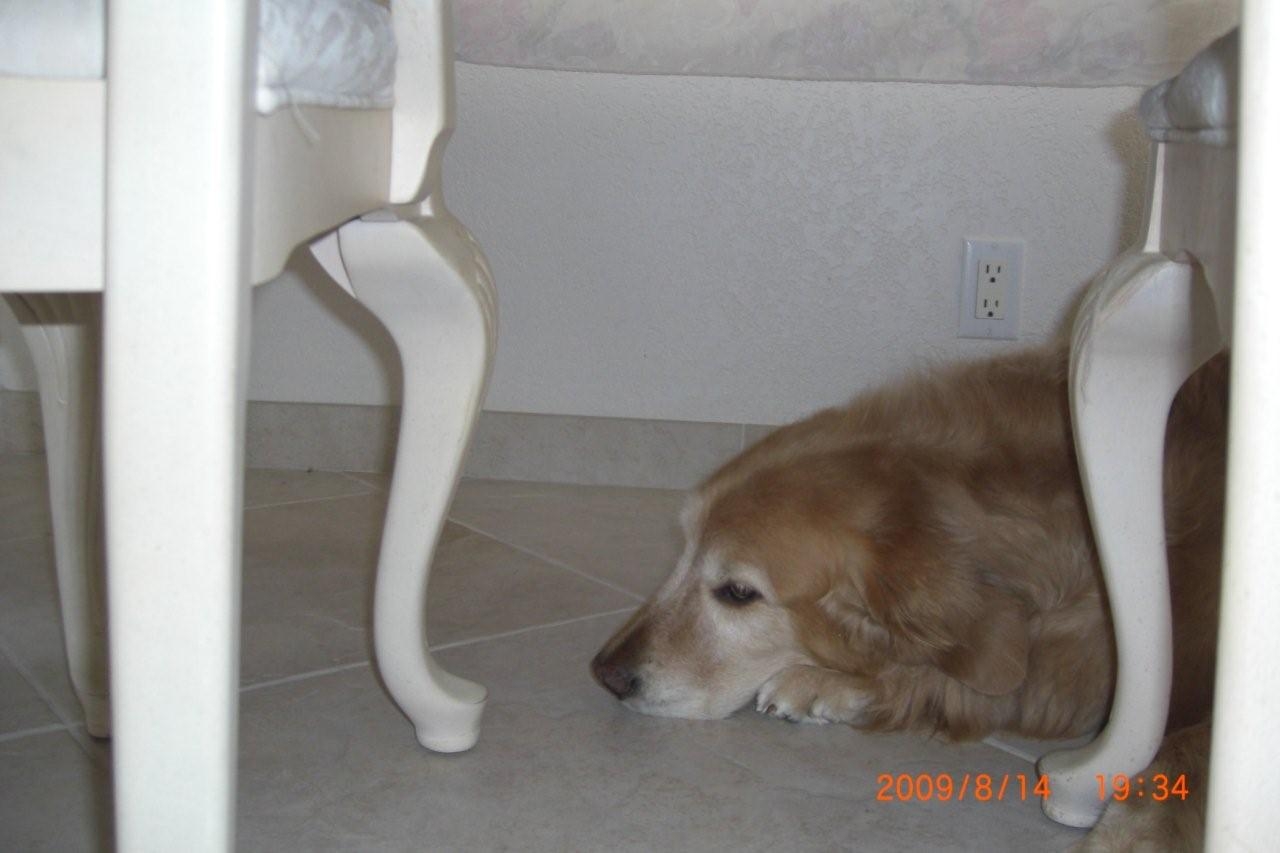 Who needs a vacuum with her around? Warning…..Do not leave your sandwich to go answer the phone….
I love you , naughty girl…
Achievements
Mewzik was born Oct 28, 1999 and came from Ellen Manke, Amberac Kennels. She is out of CH Amberac Yer Chips R Taykin, SDHF (Chipper) and Amberac Snowshoe Speedwagon (Reo) who is the dam of The Best puppy at the 99 national.

Mewzik is the newest member of the Aileron Golden team and the flygirl of the group. She just turned 7 months old in May 2000 but started her show career with a bang at her first AKC show.

Mewzik was winner's bitch under judge Virginia Lyne for a 5 point major!

The next day Mewzik was winners bitch AND Best of Winners under judge Patricia Trotter for ANOTHER 5 point major!!! And....to top it off she was Best Golden Retriever Puppy and got a Puppy sporting group one! 7 months old... two five point majors!

Of course we are somewhat shocked that our baby flygirl could start out with such a bang, but we're on a wild rollercoaster ride with her and we're just gonna hang on and see how wild this ride gets!

More tennis balls please!

Are you going to eat that?

Mewzik was expertly shown by her co-Owner and my good friend Lori Mihm-Kunz from Fairbanks. Watch out for this dynamic duo. They will knock your socks off!


Bad Girl - 3 months old!

What a view!

Mewzik at 9 weeks


Mewzik's second win, a five point major with Winners Bitch, Best of Winners from the 6-9 puppy class. She is 7 months in this picture.

The judge is esteemed structure movement judge Patricia Trotter.




Paper Towel Thief



---

Mewzik's sire : BISS Am. Ch. Amberac Yer Chips R Taykin SDHF OS

Chipper was the number 1 Golden Retriever for 2001 and is the sire of multiple multi talented kids. Inluding two of Mewzik's siblings who are also Champions!